"I am writing to thank Joe especially and all the crew of the Sea Star who made my aunt's burial at sea a wonderfully beautiful experience for everyone involved. This was an extremely emotional and difficult time for me. Joe made sure I was guided and supported throughout as he did all our friends. His compassion and dignity was awe inspiring. His love for the sea, and the beauty it blessed us with that evening was simply amazing. My aunt began her journey to America from England on a boat in 1969 and never returned for good. Casting her ashes on the ocean she had made her home by in California was a beautiful and fitting way of setting her free. Thank you from the bottom of our hearts."
—E.W., London, England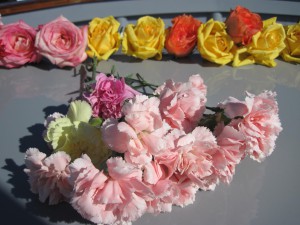 "We are writing to thank you for your kindness to our family during a difficult time for us. We greatly appreciated your thoughtfulness."
— R. Family, Oceanside, CA
"Thank you very much for your special kindness to me and my family. Only the heart, not the words, can express my gratitude"
— W.H., Oceanside, CA
"I can't thank you enough for the wonderful day. It was magical, spiritual and full of love, hope and renewal. What lovely memories for the rest of my life!"
— M.D., North County San Diego, CA
"The burial at sea you were involved in and made so special is so very much appreciated! You are truly a great person!"
– J.D., San Diego, CA
"Your calm and professional manner put us all at ease and we felt so taken care of in your company. We really appreciated your outlook on burials at sea and your words brought us all great comfort."
– The B Family, Vista, CA
"There wasn't a person on board who wasn't touched by the depth of your caring and sensitivity."
– J.F. North County San Diego, CA
You can schedule your burial at sea by calling us at 760-966-0111.
"Thank you for the wonderful ceremony aboard the Sea Star.  Your kindness and thoughtfulness was more than I imagined it could be.  It was just beautiful!  Although emotional, it will be an unforgettable experience for our family.  This is a great service you provide."
– F.D. Dayton, Ohio
"I want to thank you for your kindness, efficiency and empathy.  The service was just perfect and you made the process easy.  Thank you for your crew who helped make the evening perfect and thank you for your gentle spirit." –  D.B., Escondido, CA
"You generate so much warmth and kindness. My family was blessed to have you assist us with our mother's memorial service and releasing of her ashes at sea. Your care and concern for our needs at such a difficult time was truly evident from the moment we stepped on board."
– D.W., Fresno, CA
"We wanted to thank you for helping our family with such a beautiful memorial service. Everyone that was onboard was so amazed at what a peaceful experience we were all a part of. Thank you for helping us to provide such special and unforgettable memories."
– The E. Family, Anaheim, CA
"A heartfelt thank your for making our day special and significant. Your direction and compassion was very much appreciated."
– R.O., Scottsdale, Arizona
"The care and compassion you exhibited to guide us during this burial at sea was greatly appreciated. Your written instructions were extremely helpful for me."
– M.B., Atlanta, GA
Why choose a Sea Star Burial at Sea?
Sea Star Charters burials at sea has helped families for over 30 years plan a burial at sea for their loved one.